Exclusive Interview: Runway 34 is full of drama, thriller and suspense
Jyotsna Rawat. Apart from acting, Ajay Devgn is also known for directing, having directed 'U Me Aur Hum' (2008) and 'Shivaay' (2016). This is the reason that people were eagerly waiting for his directorial venture Runway 34. This wait is over now. 'Runway 34' has been released in theatres. It is a film based on a true incident that happened in 2015. In which the pilot has to face a lot of difficulties in operating the plane due to bad weather and fog. It also stars Amitabh Bachchan, Boman Irani, Rakul Preet Singh, Akansha Singh and YouTuber Carrie Minate. Ajay Devgan has directed and produced the film as well. The film's starcast Ajay Devgan and Rakul Preet Singh, who reached Delhi for promotion, had a special conversation with Punjab Kesari / Navodaya Times / Jagbani / Hind Samachar. Here are the highlights of the conversation:
Ajay Devgn
1. What is going to be special in the film?
I would like to say that this film is inspired by a true incident. The film also has a lot of drama, thriller and suspense. This is a very different kind of film.
2. Did you know about this incident before making the film?
No, I did not know anything about this earlier, when you watch the film, you will know how interesting it is.
3. How was it directing Amitabh Bachchan?
I would like to say that it is every director's dream to direct Mr. Bachchan in his film. It was great working with him, you expect the person in front to give you 100% but Mr. Bachchan gives 150%.
4. From the trailer, the film seems to be of Hollywood level. How did the sets, the effects achieve everything?
I would like to tell that when people say that our films are not made like theirs (Hollywood), then they should think that they make films with a budget of thousand crores and we in hundred crores. We have many limitations, but we have so much talent that we all can do it in our budget. It is easy to compare them, but it is difficult to reach there by staying within your circle but it is fun.
5. You are an actor, director, producer everything, what else do you want to do now?
Ajay laughs and says don't know… yes, a lot is yet to be done. The effort is to do good work, in whatever department you are in.
6. Coming to this point, how much has the meaning of films changed for you today?
I would like to tell that in Hollywood, no actor is ever asked why you did a small role, but it happens here in us. According to me, if your character is small and gives full support to the film, then you should do it. I always did what I liked. Being an actor, one should never do the same thing or else you end up in the same type of character. It is necessary to do different things.
7. As a director, how do you think OTT has changed the industry?
With the advent of OTT, this change has come that the exposure of our audience has increased a lot. Now people like to watch different languages ​​and different types of movies. You should understand that whether it is South films or Punjabi films, all are from India. The change has come that because of OTT, everyone is now easily able to see.
Rakul Preet Singh
1. Tell us something about how you prepared for your character?
My character is of co-pilot in this. For this both I and Ajay sir took cockpit training for 4-5 days. So that we know which buttons are on the panel. Because only then our body language will be correct. Apart from this, a captain also lived on our set. Yes, but when you wear a uniform, that confidence comes automatically.
2. How was the experience of working with Amitabh Bachchan? Tell me about their quality?
Rakul says that working with Amitabh ji is like a dream come true for me. When someone comes to the industry, it is their dream that once they meet Bachchan ji. After that when he starts getting work, his dream is to get to work with Bachchan sir once. I would like to say that even today there is a lot of dedication for work in Bachchan ji. They reach the sets before time, they do not go to the vanity van and keep rehearsing. We had a scene of twenty-one pages that we had to do together and when Bachchan sir came, he remembered all the dialogues. I don't think any other actor would have been so prepared. They are never in a hurry to go home. I learned from him that you can reach any point but your dedication towards work should not be less.
3. You have already worked with Ajay Devgan, which everyone liked very much but how was the experience with him as a director in this film?
Yes, on the second day of the shoot, I told Ajay sir that how are you doing all this, you are also acting and directing. All the cameras used to do the same check. The runway is very difficult to shoot. Ajay sir loves challenges.
4. In which films will we see you next?
I have many films coming out in which I have different types of characters. I am in the role of a doctor in the film 'Doctor Ji' with Ayushmann Khurrana. There is also Ajay Devgan and Siddharth Malhotra's 'Thank God'. Also there is a film 'Chhatri Wali' in which I have become a condom tester.
The emptiness in the eyes… looking for love with hands stretched towards the sky… Shahnaz Gill expressed his heart through the song Pasuri
Mumbai: When pain is associated with the heart, it is clearly visible in the eyes. With time, even though the wound gets coated and it reduces our sorrow, but if you scrape, that wound also becomes green. Something similar is the case with Shehnaaz Gill of Bigg Boss 13. Even though Shehnaaz has learned to live again after the death of her love and special friend and the laughter has returned to her lips, but on many occasions, she sees the desolation in her life.
The emptiness in Shahnaz's eyes is still visible even today, which came due to the departure of Siddharth Shukla. We are not saying this just like this, the video that Shahnaz shared recently is proof of this. Through this video, Shahnaz has expressed his heart.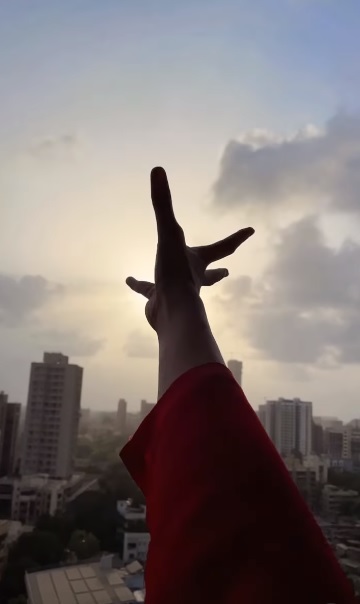 Shehnaaz is looking for her love with her arms extended towards the sky. In the video, Shehnaaz is dancing on Ali Seth and She Gi starrer song 'Pasuri', looking at the sky as if looking for something, sometimes she is expressing that emptiness with her eyes. Who must have pricked his heart by becoming a tease.
It seems that Shahnaz is looking for someone moment by moment and that thing is somewhere in nature. song lyrics-'Come and walk with you.. Where is the connection.. You are there, there is your lack…Openly telling the heart of Shahnaz.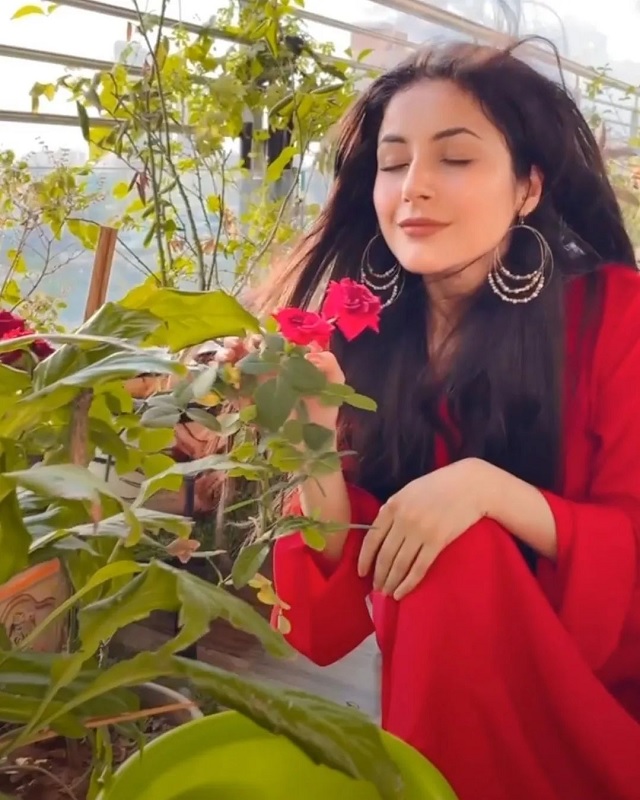 Siddharth Shukla passed away from the world on 2 September 2021. He died of a heart attack. Shahnaz was very close to Siddharth Shukla. The two first met in Bigg Boss 13. The friendship of both took such a form that the hashtag of their name was even made. People would also like to see this pair, popularly known as Sidnaaz, together. Shahnaz Gill was completely broken after Siddharth's departure, but now with time, Shahnaz has come back strongly but the pain is alive in her chest.
View this post on Instagram

A post shared by Shehnaaz Gill (@shehnaazgill)
Talking about the workfront, there are reports that Shahnaz is going to be seen in 'Kabhi Eid Kabhi Diwali' with Salman Khan. Apart from this, she is also very active on YouTube channel. She often shares her life related blog with fans.
Kartik-Kiara, who arrived in Ahmedabad to promote 'Bhool Bhulaiyaa 2', enjoyed the Gujarati thali, pictures went viral
Today Update. Actor Karthik Aryan and actress Kiara Advani are soon bringing Bhool Bhulaiyaa 2 film for their fans. The film is going to hit the theaters on May 20. These days both the stars are busy promoting the film fiercely and in this connection they recently reached Ahmedabad in Gujarat, where both the stars also enjoyed the Gujarati thali together. These pictures of Karthik-Kiara are now becoming very viral on social media.
These pictures have been shared by Karthik Aryan on his Instagram account, where both of them are enjoying a Gujarati plate with great fun sitting together.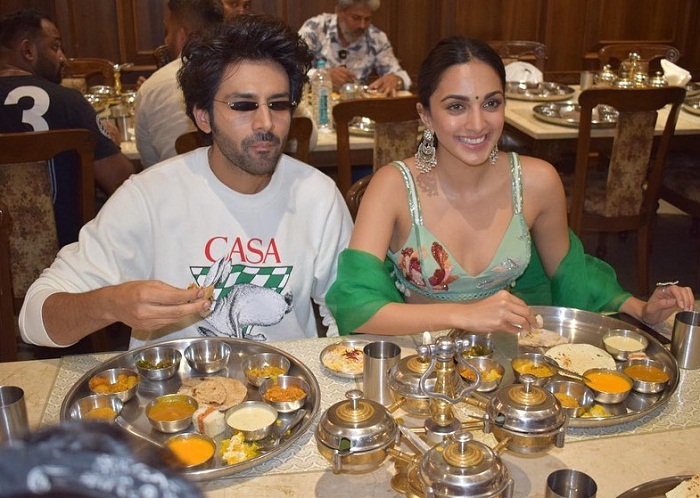 During this, Kiara is looking very beautiful in a green outfit and Kartik Aaryan is looking very cool in blue denim with white t-shirt.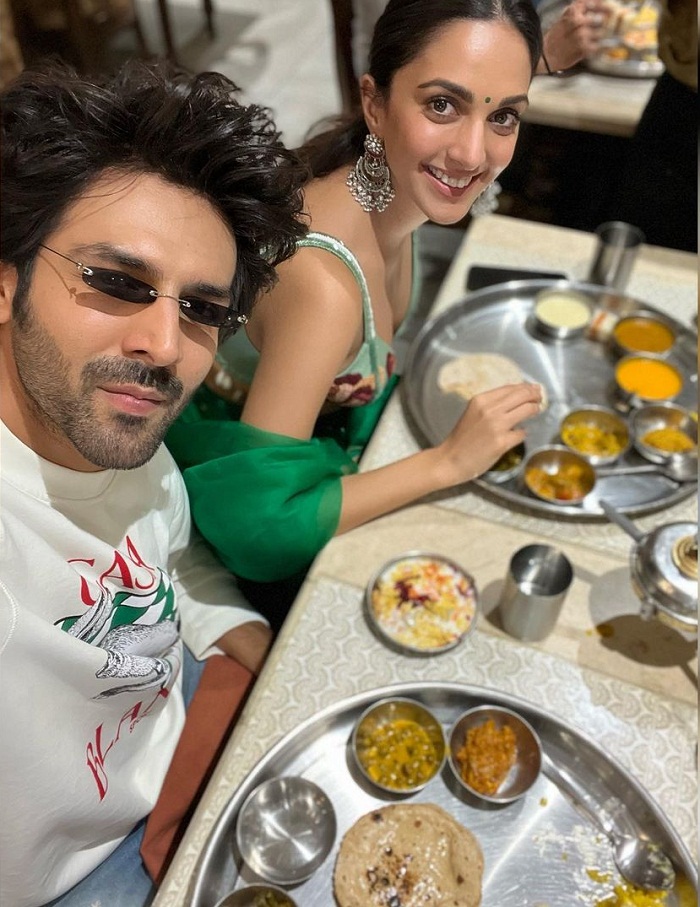 Fans are very fond of these pictures of both the stars and are also giving their feedback on the comment.
View this post on Instagram

A post shared by KRTIK AARYAN (@kartikaaryan)
Let me tell you, Kartik Aaryan's 'Bhool Bhulaiyaa 2' is directed by Anees Bazmee, in which Kiara Advani will be seen opposite the actor. The film is going to release on screen very soon on 20th May.
'Devika Dheer' Kritika-Nikitan named this beautiful little angel, after 8 years of marriage, the couple's house buzzed
Mumbai: Kritika Sengar and Nikitin Dheer, one of the most loved couples of the entertainment industry, recently heard the buzz of the little boy. The couple welcomed their first child on 12 May 2022. Kritika gave birth to a lovely daughter on Thursday. The couple is quite happy after becoming parents after 8 years of marriage. The couple shared this happiness with the fans by sharing a lovely post on 12 May 2022.
Along with this post, he also revealed the name of his little angel. The couple has named their sweetheart 'Devika Dheer'. He shared the picture of a starry rainbow and mentioned the date and name of the ladli's birth.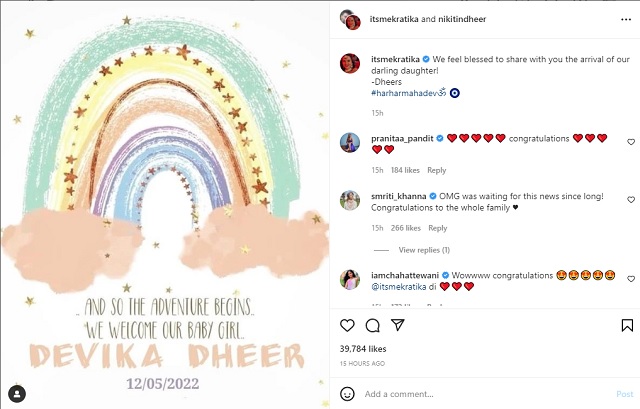 On this Nikitin wrote-And now the adventure begins. We welcome our baby girl. Devika Patience. 12/05/2022.' Sharing this, he wrote-'We feel blessed to share with you the arrival of our lovely daughter!'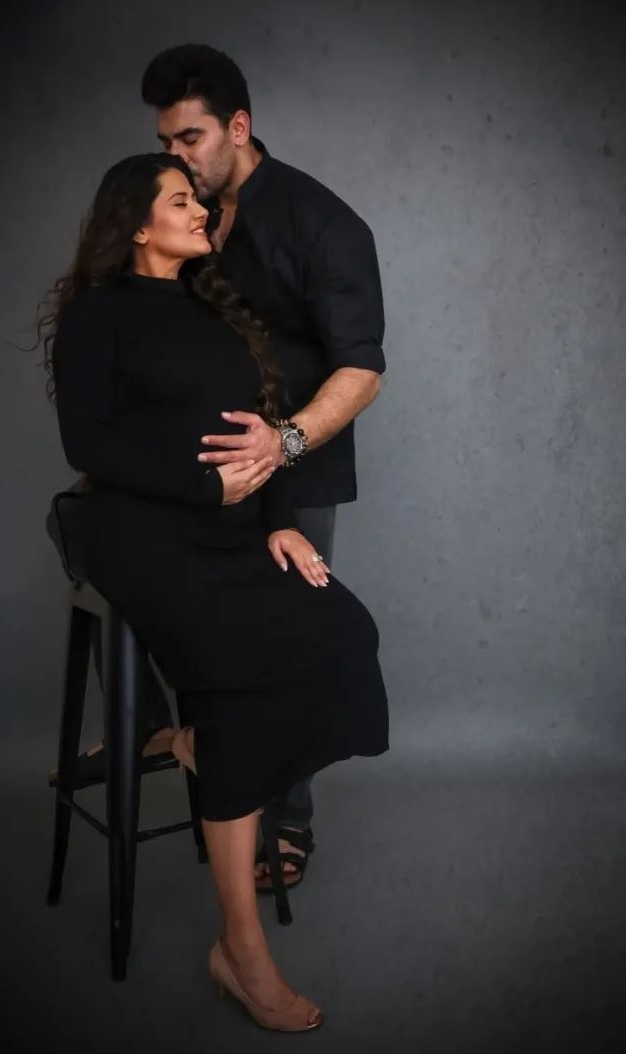 Krutika Sengar and Nikitin Dheer announced the 'good news' of their pregnancy on 13 November 2021. Since then, they have been sharing adorable glimpses of every special moment of their lives on their respective social media handles.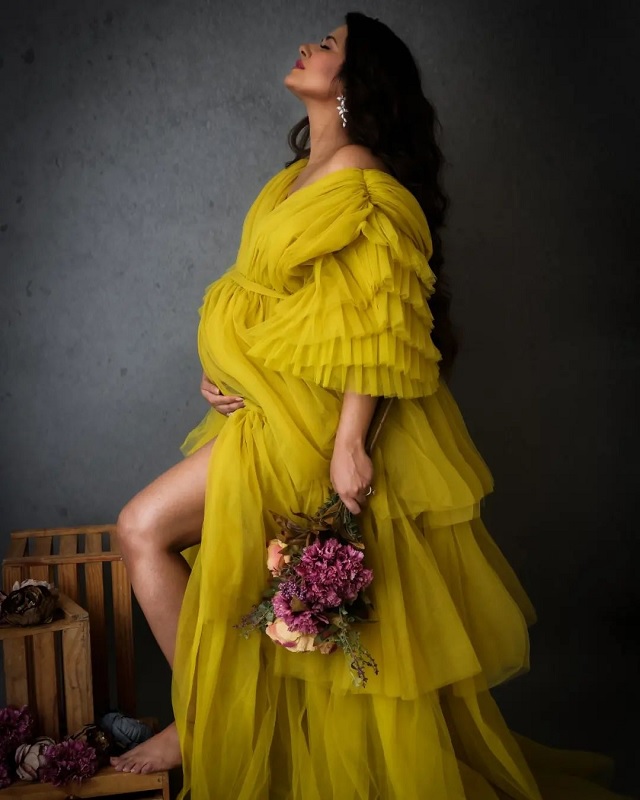 A few days back, Kritika got her maternity photoshoot done. Nikita wore a tail design dress in the photoshoot, she remains a big hit in the maternity photoshoot these days. We are currently excited to catch the first glimpse of Kritika and Nikitin's darling daughter Devika Dheer.